The benefits of recreation in the village of Kontokali
On the Greek island of Corfu vacation seems heavenly pastime. Just look at photos of Corfu – they are clear blue Ionian sea is framed with lush exotic vegetation of the island. What you do not advertising chocolate bounty? And if joking apart, this area actually choose every year hundreds of tourists from around the globe.
Corfu is a favorite destination for many Russians, British, Italians, French, poles, Hungarians and Germans. And, of course, in addition to representatives of these Nations there is a lot of different people. Anyway, here is something to see. On the island, like the beautiful necklace, strung a lot of small cozy resorts. Sometimes it is surprising to understand that such a small and cozy island located a few dozen different suburbs and resorts.
Moreover, each of them has its own unique atmosphere. Somewhere there are places in which hidden ancient ruins and the monasteries of Corfu, others are rather maximally secluded area, hidden from the eyes of others. So let's talk about the benefits of vacation at local resorts of Corfu, and then move to one of them to plunge into the mood of holidays in Corfu. We are talking about the place were Kontokali.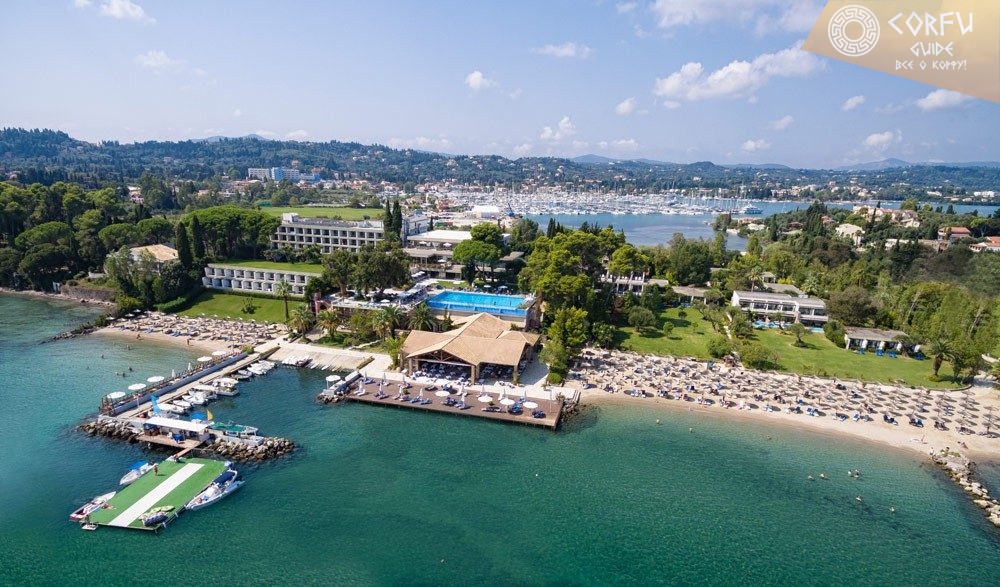 That offer spas Corfu?
Resorts of Corfu might differ from the series of most Greek towns. In General, this island has a special cozy and a homey atmosphere. This is largely contribute by the locals. Morphinane as if created in order to meet guests in their cities. The good smiling people are always happy to help you all I can.
That is why the service in hotels, cafes, taverns and other public places in Corfu, just at the highest level. And it's not an expensive luxury and elegant way, the whole thing just in Greek kindness and hospitality. For example, many of our compatriots returned again and again to the same Villa or residence in which they once stood. The fact that these private lands often tuck separate families, and tourists during their vacation time to make friends with them.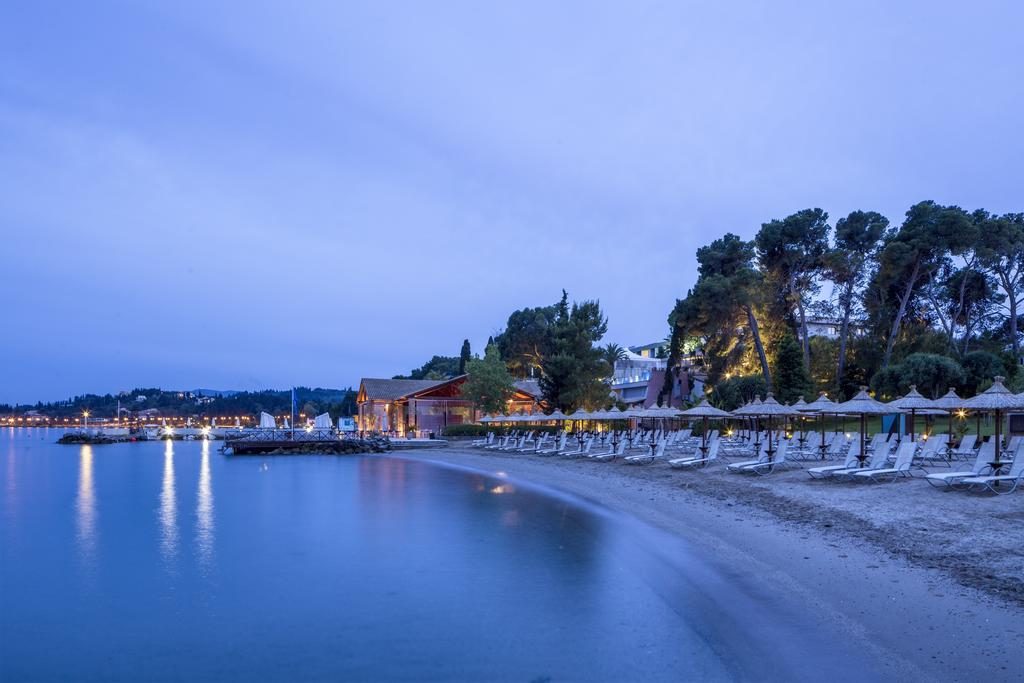 So, on the territory of such mini-hotels are very friendly and family relationships. And subsequently, the guests and the hosts are in correspondence and otherwise support each other. Guests are always provided a room in similar hotels, and with an impressive discount. These colorful situations, we are trying to convey the very mood of Corfu. It is in contrast to, say, Glyfada is a large resort located a short distance from Athens attracts with its simplicity and hospitality.
Whereas in Athens with many expensive high-end restaurants and hotels mnogozvezdochnogo create an aura of a premium resort. Which is not bad. But to each his own, and today we will talk about the numerous resorts of Corfu, and about what distinguishes them from a number of other similar places in the world.
It is on the coasts of the local resorts you can find all kinds of beaches: at your service, both sandy and pebble beaches, as well as equipped and wild beaches of Corfu. All these coasts are distinguished by their unique enchanting scenery, clean Ionian sea bright and exotic underwater world. Let's talk in more detail about exactly what rest on a beach, and how it in wild places. Secluded coves and bays, which here and there presented at the resorts of the island, the rest is distinguished by its calm, serenity and a special communion with nature. After all, sometimes you will stay here alone or only with members of their company. Here, nature is particularly amazing showing all their colors and sounds. But public municipal banks, you can always use the so-called benefits of mankind. Here at your service and sun beds with umbrellas, and numerous diving equipment that you can rent. As well as a variety of water sports such as water skiing, banana, catamaran, boating, yachts and ships, as well as skydiving. For younger guests there are various slides, trampolines and even entire parks. And in one of the suburbs of Corfu tourists are offered boat trips with glass bottom on a half-hour walk to the sea. This tour is called Yellow submarine. In special delight from the youngest campers, because you can see all the amazing moments of the seabed.
About it we will talk separately in this paragraph. The Ionian sea is characterized by its rich and colorful flora and fauna. If you look at the local the bottom, you can see an unprecedented underwater plants of all colors of the rainbow. In addition, the local sea travel through various fish – bigger and smaller, and all very bright colorful colors. There is also a variety of sea creatures such as octopuses, crabs, starfish, jellyfish, sea urchins, and many others. They like not afraid to swim close enough to shore. This, of course, the special delight of all the campers, especially the youngest visitors. But best of all the local representatives of the sea depths you can look out to sea. You can take a motor or a boat and pobrodit the vast local banks. So you plenty of admiring the local scenery and see the beautiful underwater species. By the way, here is you can find very beautiful natural phenomena, such as sea caves and grottoes. As for the underwater world – it is also best to look at the resorts. Right here ultra pure water.
Perhaps this is also one of the main advantages of vacation resorts of Corfu. They usually very calm and serene sea due to the fact that the beaches of these suburbs are often in beautiful natural bays and gulfs. Also due to this water is characterized by its special, as they say here, crystal clear. Many of the coasts of the local resorts Blue flag, which means that they are awarded the title especially clean natural places. In order to know the list of coasts with blue flag you just need to enter the question on the Internet, and you will be given an impressive list of local resorts.
The resorts of Corfu you will be able to walk through nature and towns. All of the local nature is just made for a pleasant promenades. And here to arrange a picnic is a very nice and fun, especially because in Corfu grows a large number of exotic trees that delight visitors with their ripe and juicy fruits. Just imagine that very many suburbs of this Greek island are surrounded by just orange and lemon trees. Due to this, the air in the area becomes extremely fragrant. In addition, in Corfu you can find many olive, cypress, vineyard, trees, pears, figs, pine groves and thickets of blackberries. This lush vegetation is able to hide in any hot day. The benefit that many trees grow very close to the coastline. That is why many vacationers do not even take umbrellas and sunbeds for hire – they have enough local vegetation.
Some of the resorts in Corfu is rich in its infrastructure, while others have only a few shops and taverns, representing a kind of abandoned and secluded spot away from civilization. Anyway, here often sell Souvenirs of Corfu. A local engaged in manufacturing of paintings, picture frames, jewelry, as well as producing olive oil and jams and preserves from local fruit. All this is many tourists from all over the world with the joy of being taken to his home, in order to please their loved ones. All these Souvenirs and local products are much cheaper to buy in the suburbs of the island. Prices here are not inflated to the skies, and local residents of small towns will try to please their customers. A leave on the last day selection of gifts, hoping to buy everything in the shops "duty free" at airports. But I would like to warn our readers that the local duty-free zone for some reason, not has a good selection of products. And it is not clear why it is duty free because the prices here are very small. For example, a small bottle of olive oil at the pharmacy Corfu will cost about 20 percent cheaper than in the local "duty free". Therefore, choosing a holiday on one of the suburban resorts, and you decide this question also.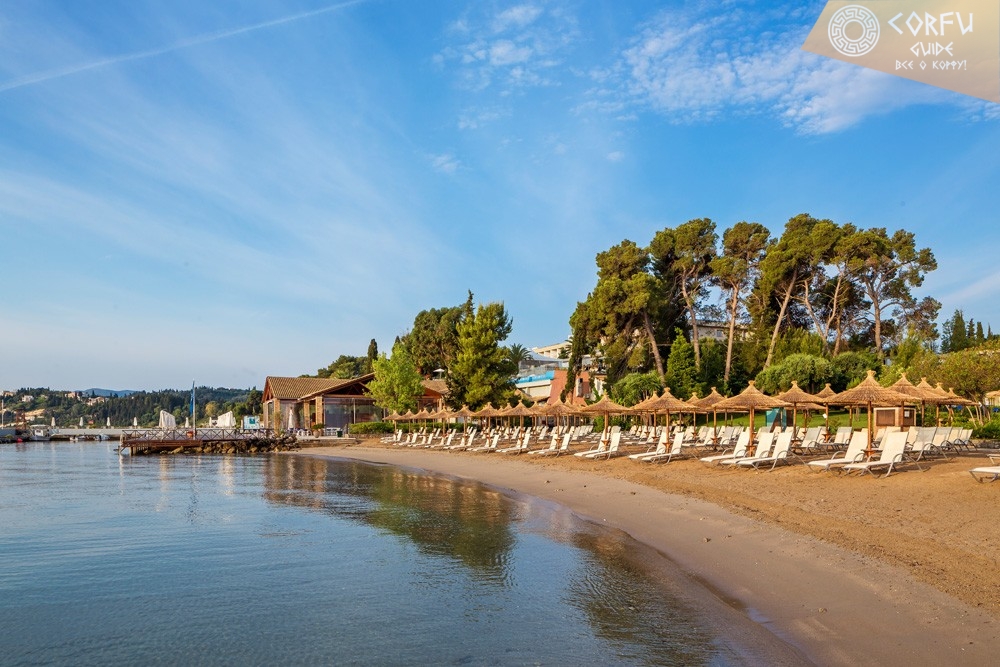 Stay in the village of Kontokali
Well, I think we ran through the main advantages of the vacation resorts of Corfu. There are also many other distinctive features. But it is better to disassemble, studying the characteristics of each individual suburb. One thing they share for sure is a rather quiet and peaceful setting on the shores of the Ionian sea.
Today we look at one of these relaxing resorts – in the village of Kontokali. Let's similarly analyze the points of her bright distinctive features. This place attracts so many tourists from around the world?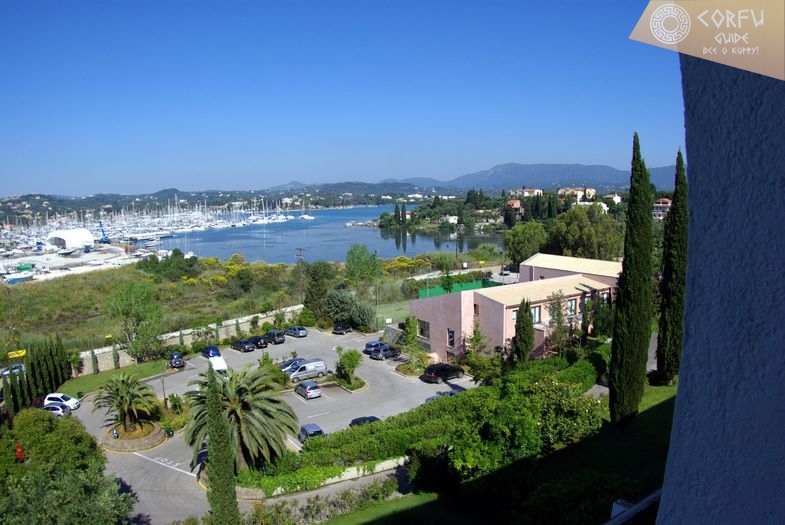 I have all colors of the rainbow. In addition, the local sea travel through various fish – bigger and smaller, and all very bright colorful colors. There is also a variety of sea creatures such as octopuses, crabs, starfish, jellyfish, sea urchins, and many others. They like not afraid to swim close enough to shore. This, of course, the special delight of all the campers, especially the youngest visitors. But best of all the local representatives of the sea depths you can look out to sea. You can take a motor or a boat and pobrodit the vast local banks. So you plenty of admiring the local scenery and see the beautiful underwater species. By the way, here is you can find very beautiful natural phenomena, such as sea caves and grottoes. As for the underwater world – it is also best to look at the resorts. Right here ultra pure water.
Perhaps this is also one of the main advantages of vacation resorts of Corfu. They usually very calm and serene sea due to the fact that the beaches of these suburbs are often in beautiful natural bays and gulfs. Also due to this water is characterized by its special, as they say here, crystal clear. Many of the coasts of the local resorts Blue flag, which means that they are awarded the title especially clean natural places. In order to know the list of coasts with blue flag you just need to enter the question on the Internet, and you will be given an impressive list of local resorts.
The resorts of Corfu you will be able to walk through nature and towns. All of the local nature is just made for a pleasant promenades. And here to arrange a picnic is a very nice and fun, especially because in Corfu grows a large number of exotic trees that delight visitors with their ripe and juicy fruits. Just imagine that very many suburbs of this Greek island are surrounded by just orange and lemon trees. Due to this, the air in the area becomes extremely fragrant. In addition, in Corfu you can find many olive, cypress, vineyard, trees, pears, figs, pine groves and thickets of blackberries. This lush vegetation is able to hide in any hot day. The benefit that many trees grow very close to the coastline. That is why many vacationers do not even take umbrellas and sunbeds for hire – they have enough local vegetation.
Some of the resorts in Corfu is rich in its infrastructure, while others have only a few shops and taverns, representing a kind of abandoned and secluded spot away from civilization. Anyway, here often sell Souvenirs of Corfu. A local engaged in manufacturing of paintings, picture frames, jewelry, as well as producing olive oil and jams and preserves from local fruit. All this is many tourists from all over the world with the joy of being taken to his home, in order to please their loved ones. All these Souvenirs and local products are much cheaper to buy in the suburbs of the island. Prices here are not inflated to the skies, and local residents of small towns will try to please their customers. A leave on the last day selection of gifts, hoping to buy everything in the shops "duty free" at airports. But I would like to warn our readers that the local duty-free zone for some reason, not has a good selection of products. And it is not clear why it is duty free because the prices here are very small. For example, a small bottle of olive oil at the pharmacy Corfu will cost about 20 percent cheaper than in the local "duty free". Therefore, choosing a holiday on one of the suburban resorts, and you decide this question also.

Stay in the village of Kontokali

Well, I think we ran through the main advantages of the vacation resorts of Corfu. There are also many other distinctive features. But it is better to disassemble, studying the characteristics of each individual suburb. One thing they share for sure is a rather quiet and peaceful setting on the shores of the Ionian sea.

Today we look at one of these relaxing resorts – in the village of Kontokali. Let's similarly analyze the points of her bright distinctive features. This place attracts so many tourists from around the world?

Kontokali is a very small area on the Eastern coast of Corfu. This place was chosen by the tourists who are on holiday with children. Despite the fact that Kontokali is only a small fishing village, where you can spend unforgettable holidays. In many ways you can do this through well-developed for such a location and amenities of the resort. Here you can find small hotels, villas, a network of taverns, bars and shops. All these towns are very small and not elegant. But the locals, as already mentioned, very welcoming to all vacationers, which helps to keep the service at a certain high level. After all, this is the most important in the sphere of tourism and service.
The climate of the suburb, as is usual in such villages of Corfu, quite soft. Rarely anyone here is a long and hard acclimatization. Also because the weather in Corfu is generally considered to be soft enough and suitable to a wide range of tourists. Summer temperatures at these resorts does not rise above 30 degrees and in winter is not colder than 10 degrees above the thermometer. There are however a small exception to this is the end of July and August. In these months the Greek sun can be pretty harsh. And even in such peaceful and filled with greenery, shaded places, as Kontokali, you need to be alert not to get heat stroke.
We talked about places in Corfu-awarded with the hallmark of the Blue flag. It turns out that one of them is this small resort. Not to say that the beaches here are rich in a variety of coastal infrastructure or that they were constantly being cleaned and looked after them. But nature itself has tried, and because this coast is clean and safe for guests. Us for its part is not only to disturb this natural harmony, and not to litter the local coastline! The locals have great respect towards tourists, which in turn with reverence to the local beautiful natural places. If you will relax in Greece was Kontokali, you will immediately feel the purity of the local coast. At the entrance to the sea can be seen that the water is transparent, and on the shore no sea urchins or jellyfish that make the entrance to the sea.
Many couples have chosen the hotel Kontokali because here for a long time observed the shallow water. This ensures a safe stay for your children. In addition, the water near the shore is warm enough due to the fact that there is no depth. It is also available to young travelers longer able to frolic in the sea, and parents were not afraid because they might get cold. This Greek resort at times come from the heart of Corfu island to lie on the local beach. Even the locals appreciated its advantages.
The local coast is pretty good, albeit no frills, equipped with everything necessary for a beach holiday. In Kontokali you will find pebbly and sandy shores. There are also several comfortable and clean and the pools right on the coast. Many tourists with children prefer to still stay in the pool, as I consider it safer for their children. By the way, the solar procedure, they will still get absolutely the same because the pools are located outdoors.
The beaches of this fishing village often choose to rest with children, who often suffer from respiratory diseases and colds. Note that for such diseases is very suitable to stay in such areas. There are a lot of pine groves that fill the air particularly fresh and wonderful flavors. It is useful for bronchial and generally for immunity in General. Interestingly, many tourists have noted the similarity of many lush green areas of Kontokali and Thailand.
And the last thing I'd like to say, it's about the beautiful nature of this amazing Corfu resort. These places are filled with special flavors of Greek flowers and trees. In Kontokali, a lot of different trees, such as eucalyptus, pine, cypress and others. In addition, there are whole pine trees, which have already been discussed. They are able to recall the Homeland to tourists from Russia. But many of the fragrant flowers of this village not only pleases the sense of smell, but also the attention of tourists from around the world.

Заголовок

Время просмотра

6:48

Просмотров

28,020

Заголовок

Время просмотра

3:34

Просмотров

5,530

Заголовок

Время просмотра

4:05

Просмотров

4,019