The advantages of hotel Almiros in Greece on the island of Corfu
The village of Almiros on the North side of the island of Corfu is a continuation of the beaches of Arhavi. Here is more quiet and less development of residential complexes, with a predominance of rich herbs and citrus trees. Almyros hotel is located in the heart of the village and is a cosy area with a large number of apartments. Guests at the resort have the opportunity to spend a holiday in a peaceful and relaxing quiet atmosphere.
General information
The hotel is located in the centre of the town of Almyros. The total area consists of three separate buildings which are approximately 50 metres apart. The buildings are located among the luxurious greenery of orange and lemon trees. In an elevated position offering lovely views of the sea and the plain of Almiros. The sea at Almiros is crystal clear, with a sandy beach stretching for 10 kilometers. There is a Parking area and a Playground for children.
Tourists have the opportunity to visit the capital of the island daily, there is a good transport interchange and will also travel to the seaside resorts of Sidari and Kasiopi. In Acharavi you can find plenty of tourist shops, restaurants, supermarkets, discos, banks, offices rental of cars and motorcycles.
Accommodation
For accommodation the resort offers Almiros apartments, studios and villas. The General situation here has the following activities:
family vacation;
a quiet and secluded getaway;
stay with a service of equal price.
For reviews of tourists here, very attentive staff, friendly atmosphere and tranquility.
Villa Aphrodite
Two rooms of the building can accommodate up to 5 tourists. The total area is equal to 85 m2 of which 55 m2 is allocated for accommodation and 30m2 veranda. This is a newly constructed building looks like a real mansion, which features 2 bedrooms, 2 sanitary rooms. Because of this Villa can be used as a holiday destination for 2 families. A beautiful garden with flowers and lush greenery and beautiful views of the sea allow guests to spend time on the wide verandah with good lighting. General equipment of the Villa includes:
bedroom No. 1: double bed, bedside tables, wardrobe, air conditioning, bathroom;
bedroom 2: two single beds, bedside tables, air conditioning, wardrobe, Desk, chair, cupboard for shoes;
kitchen: all cooking utensils, electric stove and gas, refrigerator, satellite, washing machine, Ironing Board, iron, sofa bed;
bathrooms: Wardrobe with mirror, hair dryer, shower.
Villa Pantheo
The building also is designed for 5 vacationers through 4 normal beds in 2 rooms and one sofa bed. The building has 2 separate bedrooms with a private bath, but shared kitchen. Air conditioners are present in every room of equipment here you can enjoy free Wi – Fi, satellite TV, washing machine, and fully equipped kitchen. Beautiful views of the Almiros area, rich vegetation in the garden, the sea and the mountains of Albania provides a veranda with a total area of 25m2.
Studio Almiros
Each Studio has a fully equipped kitchen, shower, bathroom, well-lit terrace, communal washing machine, free Wi-FI, satellite TV, outdoor shower. All rooms have views of the Almiros area, the high mountains of Albania, the Ionian sea. These studios are suitable for families with 1-2 children depending on pair, are easy to access for people with disabilities:
Studio option 1. The total area of 30 m2. The room can accommodate 3-4 people. (with a double bed and one single bed plus one extra bed located in the living room) this Studio has air conditioning and a 15 m2 terrace;
The bedroom contains a double bed with bedside tables, mirrors, tables, chairs, wardrobes. Living room: one or two beds, satellite TV, furniture. Kitchen: fully equipped with electric or gas hob, kettle, toaster, coffee maker, utensils.
Studio option 2. The total area of 25m2 with Seating up to 3 people. The room has two single beds, mirror, satellite TV. The living room has a sofa bed, coffee table, wardrobe. Kitchen fully equipped with electric oven with 3 hotplates, kettle, toaster, coffee maker, utensils. The bathroom contains mirror, hair dryer, shower.
Food
The hotel is not designed for food tourists, but thanks to the fully equipped kitchens guests can prepare their own meals. The ingredients can be bought in the nearest supermarket. The hotel provides BBQ facilities for cooking outdoors. And the Almyros village has plenty of tavernas and cafes where you can eat for a small cost.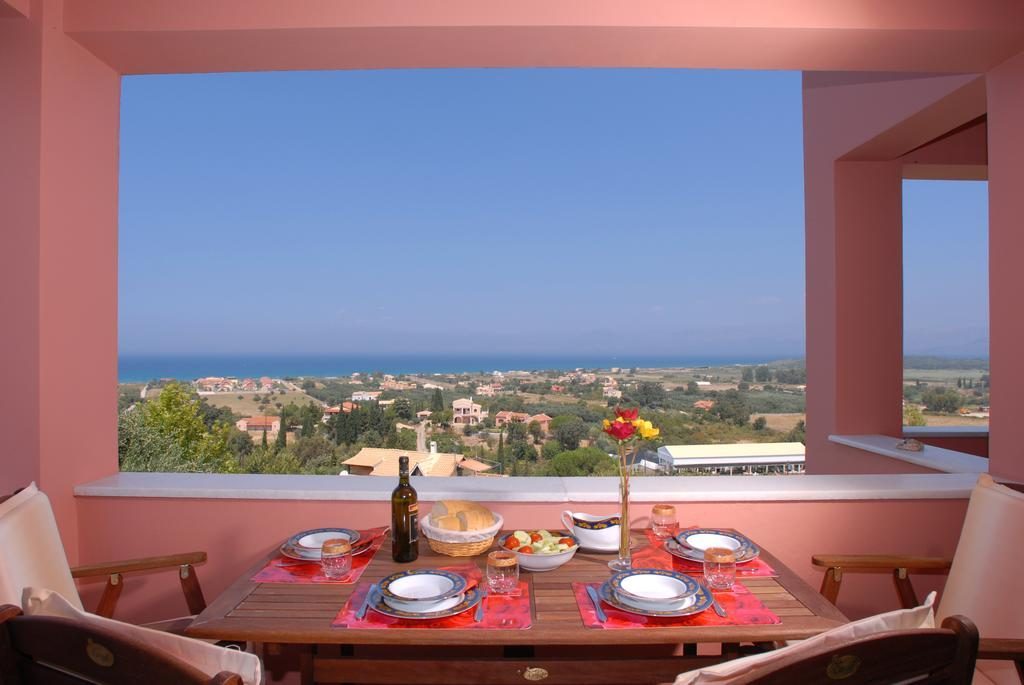 Service and facilities
It offers free Parking, swimming pool, facilities for children in strollers, Cribs and baby seats. At a surcharge, Laundry service and transport rental services. Well-kept grounds with an abundance of greenery, peace and quiet to fully satisfy the wishes of tourists to spend their vacation in comfort.
Beach
The beach is about 600m across the road. The coastline is sandy interspersed with limestone, so you may need beach shoes. Sun beds and umbrellas are paid, but it is conveniently located on the soft sand on a beach towel. The entrance to the sea is gently sloping and contains a small amount of pebbles, after 2 to 3 steps the sea bottom sandy and soft. Sea water at this resort is always perfectly clean.
Заголовок

Время просмотра

12:40

Просмотров

134,722
Заголовок

Время просмотра

13:50

Просмотров

62,604
Заголовок

Время просмотра

8:50

Просмотров

173,688