What services does the hotel Primasol Louis Ionian San Corfu?
The reviews on the Internet about the Greek island of Corfu abound in all sorts of flattering epithets, which concern the beautiful side of the island – its beauty, great scenery and well developed infrastructure. Rest here – the sheer enjoyment and pleasure.
Именно поэтому заглавной темой этого материала выбран один из многочисленных отелей острова Корфу – Примасол Луис Иониан Сан Корфу. Это место в год посещает множество туристов, каждый из которых находит здесь что-то сокровенное. Именно поэтому некоторые отдыхающие выбирают Примасол в качестве места для отдыха из года в год.
Стоит поведать о самых главных преимуществах отдыха на острове Корфу, а затем переместиться в этот замечательный уютный отель, который превосходно подойдет, как для семейного отдыха, так и для шумных молодежных компаний. Здесь также останавливаются люди в почтенном возрасте, и их также все устраивает. Но обо всем по порядку.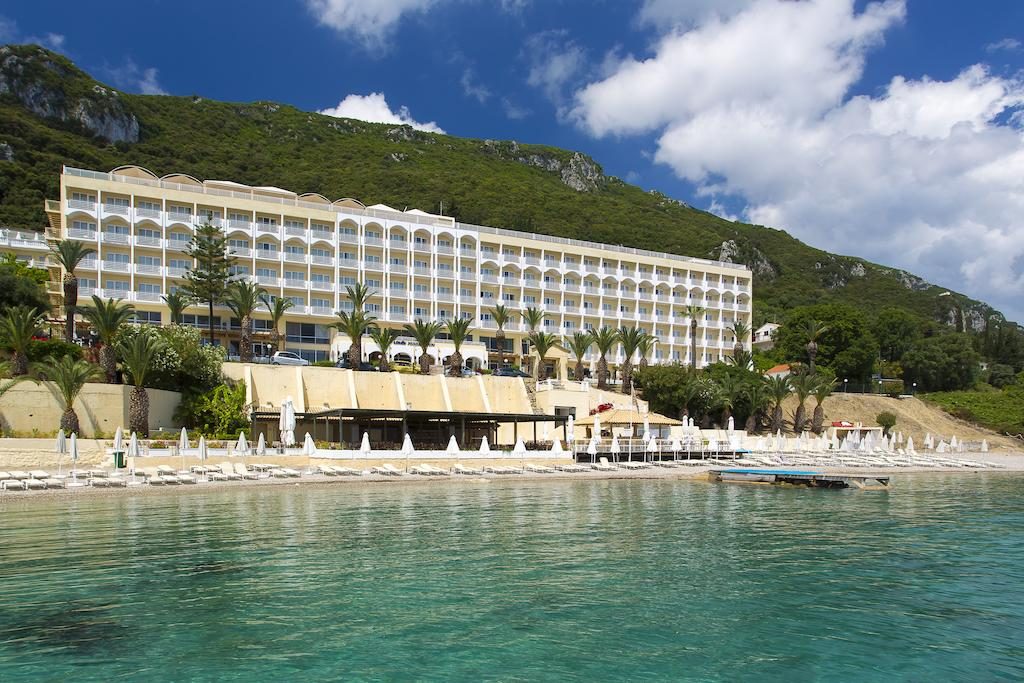 What is different about the emerald Paradise?
Corfu island is quite often referred to as the Emerald Paradise due to its abundant green areas, the blue of the Ionian sea, abundance of fresh fruits and vegetables. Here is a truly beautiful nature that captivates so many tourists who simply leave their hearts on this Greek island. About these and other distinctive features of the island worth to tell a few of the most basic points.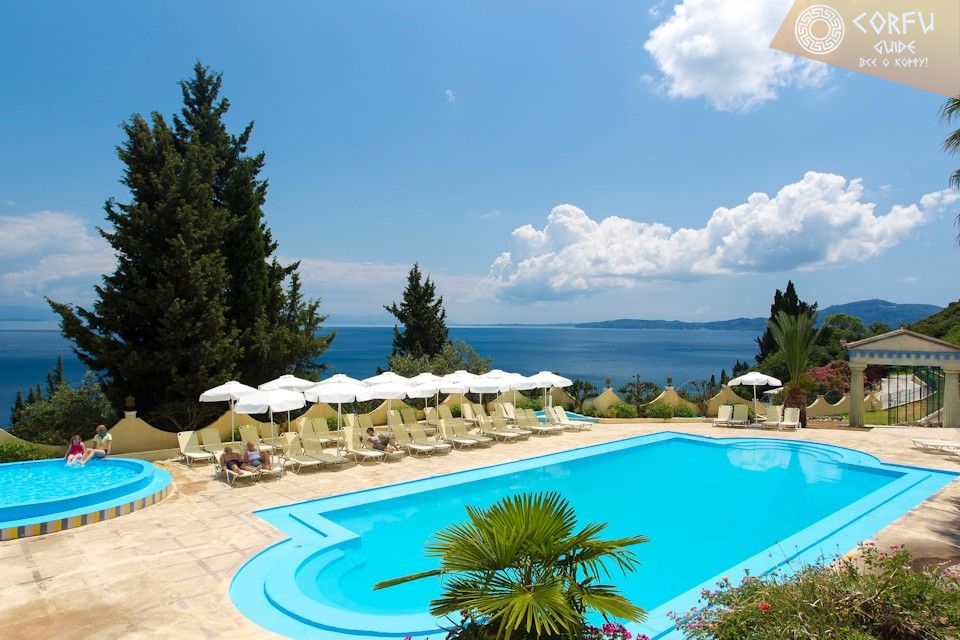 Corfu island is truly lush and beautiful nature: here you can find an abundance of lemon and orange trees, olive trees, cypresses, eucalyptus trees, pine trees and BlackBerry bushes. Besides, Corfu has an abundance of exotic flowers and shrubs, and mindlink. All this gives the air a wonderful holiday scents, forcing tourists to admire this mood. In addition, in the shade of all these trees to hide from the scorching Greek sun. It's great that they grow not so far from the shores of the Ionian sea. Sometimes you can even arrange picnics, picking fresh and ripe fruit directly from trees if the harvest season.
Furthermore, Corfu is also very beautiful underwater world. The Ionian sea is fraught with many bright and colorful fish and sea stars, octopus, crabs, corals, sea urchins and other marine inhabitants. All of them, surprisingly, are not afraid of tourists, so swim close enough to the coast, where people have a rest. For tourists with children is a real holiday, so interesting to look at fancy fish!
Furthermore, Corfu is very well developed, the entire resort infrastructure of the island. There is quite a variety of hotels, from places with multiple stars to small small private villas, residences, apartments and studios. It is especially nice to relax in a family hotel where reigns the atmosphere of a big Greek family. Also on the island are well developed all kinds of shops, stalls and boutiques. They can choose all sorts of Souvenirs as gifts for home. And, of course, is to mention the taverns, which many on this Greek island. They all have unique Greek atmosphere and presence of various Greek dishes and snacks.
Stay at the Primasol Louis Ionian Sun 4*
And so, passing through the territory of the island of Corfu, you should visit one of its popular hotels. We are talking about Primasol Louis Ionian San Corfu, as was stated in the announcement. This place has a wide range of services, and most importantly offers comfortable accommodation and meals on site. But all should speak in order.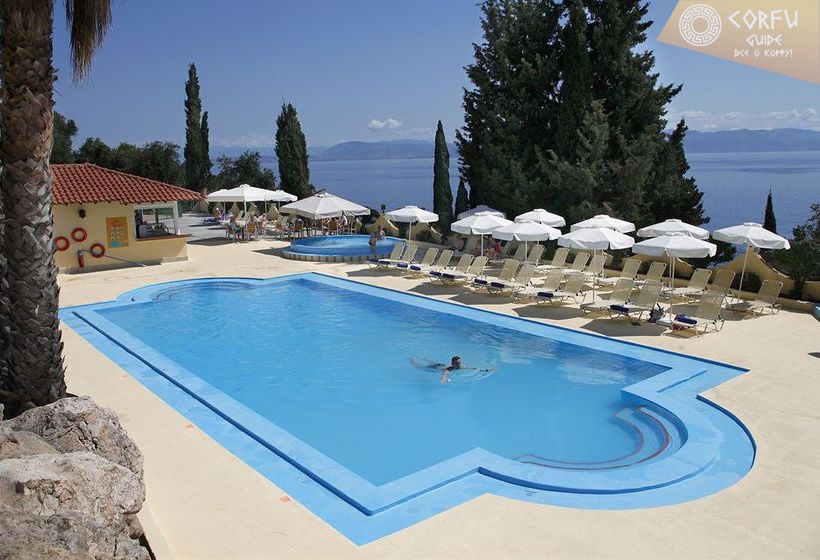 It is noteworthy that the hotel Primasol San Corfu is located just 20 metres from the local beach. This allows you to fully plunge into the natural beauty of this area. You can tell that his guests just basking in the gorgeous natural scenery and pure seaside air. With regard to the distance from the centre of the island, it is approximately 15 kilometers.
Guests can meet with 213 rooms. Some of them are standard rooms, with beautiful views of the grounds or sea. The other rooms are family friendly and offer Windows overlooking either the hotel grounds or the Ionian sea. In the rooms guests can find a bathroom, a balcony or a comfortable terrace, air conditioning, telephone, safe, satellite TV, Hairdryer in bathroom, tea and coffee, free Internet, radio and music channels.
Many vacationers say that the hotel is simply gorgeous food. Warn even to those who cherishes her figure was a bit wary! Often in 4 star hotels the food is good and offer a good range of dishes, but in Primasol is food just above all praise. Anyway, say a train station, which was in it in 2017.
But the hotel is simply nowhere to walk after such a wonderful hearty and nutritious lunch. The area is not so extensive and there are no natural alleys.
The hotel is very well-developed infrastructure and various services. There is a mini-market, shop with Souvenirs, free Internet wave in designated areas, currency exchange, car rental, a doctor on-call room for relaxation, Laundry service.
On the territory of Primasol you can practice many sports and to come up with something for everyone. This will certainly help 2 comfortable swimming pools on site, SPA procedures, special programs animators, show programs, which are held 5 times a week, mini Golf, tennis court, basketball, volleyball, aerobics, archery, table tennis, Billiards and bowling.
Also taken care in this hotel, and children. There is a children's pool, comfortable water Park with two slides, a special children's menu in the restaurants and bars, children's Playground and a babysitter whom you can hire for a fee.
Sea near the hotel is very clean, some say even the cleanest. In addition, in virtue of some natural conditions the water in this place is very well heated, so the sea is almost always very, very warm. The beach at the hotel is pebbly. The only bad thing is that sun-beds on this coast is not always enough for all guests. Those who rest here, as a rule, very much. But all the sunbeds and umbrellas of this coast is free, no need to pay a few euros for their rent. In addition, it is very nice that the beach has its own individual bar.
As for bars on the site, there are also quite a lot. There is 1 main restaurant, there is a tavern in the open air, located on the beach near the hotel has a small cosy lobby bar and a pleasant and comfortable poolside bar. In short, in the territory of Primasol San Corfu hungry, no one remained!
Array???